3-piece filter rack with pump
The 3-piece filter rack with pump is a compact filtration system for treating surface water (well, river, or lake water). It is powered by the on-board battery, a mobile battery or other 12VDC sources.
The system sucks in the water automatically and pumps the filtered water directly into the water tank , thus ensuring the supply outside of civilisation. An additional connection offers the possibility of treating tap water via the system.

ready-to-use, compact filtration system
4-stage cascade filtration
flow rate: up to 2000 liters/h
treatment of surface water & tap water (fresh water)
high-quality stainless steel housing
Gardena® compatible connection for tap water filtration
small pack size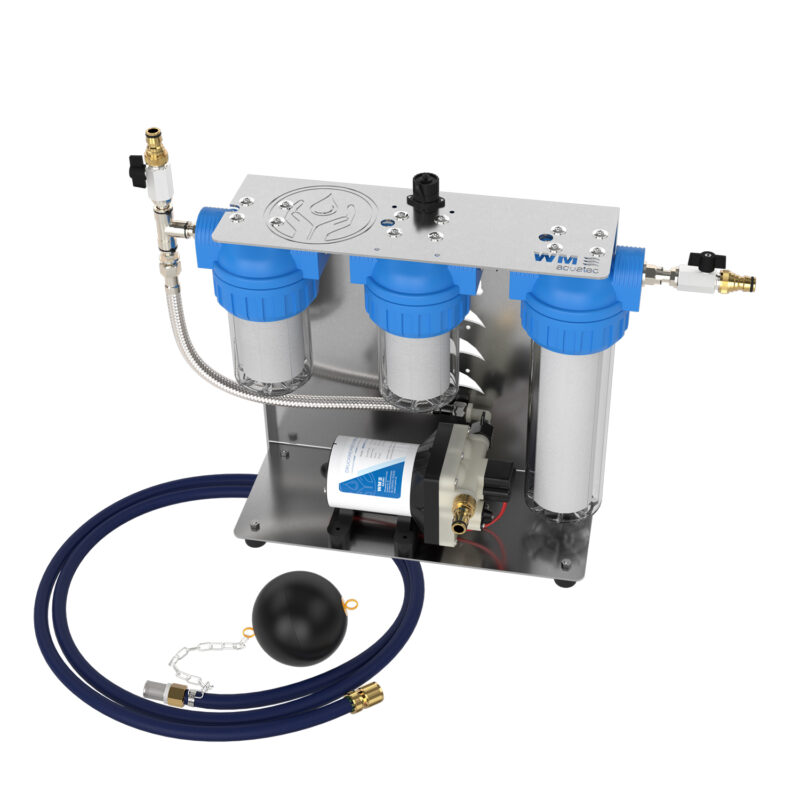 PROCESS TECHNOLOGY 4-STAGE CASCADE FILTRATION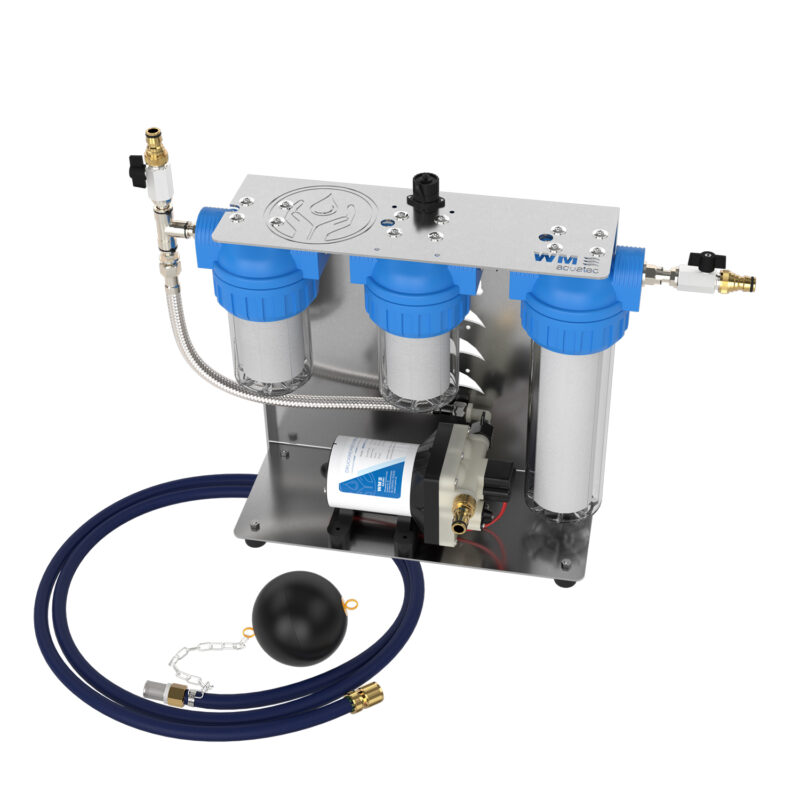 CONSTRUCTION OF 3-PIECE FILTER RACK (PUMP INSIDE)
Floating extraction with filter sieve
(1mm mesh size) for sucking in surface water
PP pre-filter 20µm
(retention of sand, plant material etc.)
PP pre-filter 5µm
(Retention of pollen, suspended matter, turbidity, etc.)
Fine filter 1µm
(Retention of protozoa such as e.g. amoebae, protozoa etc.)
Unter folgendem Link findest du Antworten auf häufige Fragen (FAQ), Gebrauchsanweisungen und Sicherheitsdatenblätter zum Download.
IMPORTANT NOTE:
This system was developed for the separation/filtration of dirt particles, cloudy matter and protozoa such as amoebas and does NOT provide drinking water. One or more disinfection stages with at least> 99.99% virologic,> 99.9999% bacteriological retention required. Depending on the water quality, it may be necessary to adsorb chemically dissolved or organic substances on an activated carbon filter. Conserving the water in the fresh water system is also advisable for reasons of hygiene.
Technical Data
Dimensions (pump inside)
56*x38x15 (WxHxD)
*50 with stopcock removed
Power supply
12VDC
Power
max. 110W
Necessary fuse
10A
Tap water treatment capacity
up to 2000 Liter/h (depending on line pressure)
Surface water treatment capacity
up to 600 Liter/h