Goodbye pollutants...Hello drinking water!
The water filter set Home Edition guarantees a high retention of pollutants and offers the best drinking water straight from the tap.
With the water filter set Home Edition, you can confidently do without water from plastic bottles – this is not only easy on the wallet, but also on the environment!
Outstanding water quality
Among other things, drug residues, hormones, heavy metals, iron, microplastics and chlorine are removed – and with guaranteed hygiene standards.
money saving, since no additional costs for bottled water
environmentally friendly, since no plastic bottles are used
excellent drinking water quality
easy installation
combination of sterile filtration and activated carbon block
activated carbon block with 10 µm filter fineness removes sand, rust, suspended matter, etc. and offers high pollutant retention (pesticides, heavy metals, chlorine, etc.)
Sterile filtration with a filter fineness of 0.1 µm removes 99.9999% of pathogens (e.g. EHEC, legionella, fungi) and supplies hygienically perfect water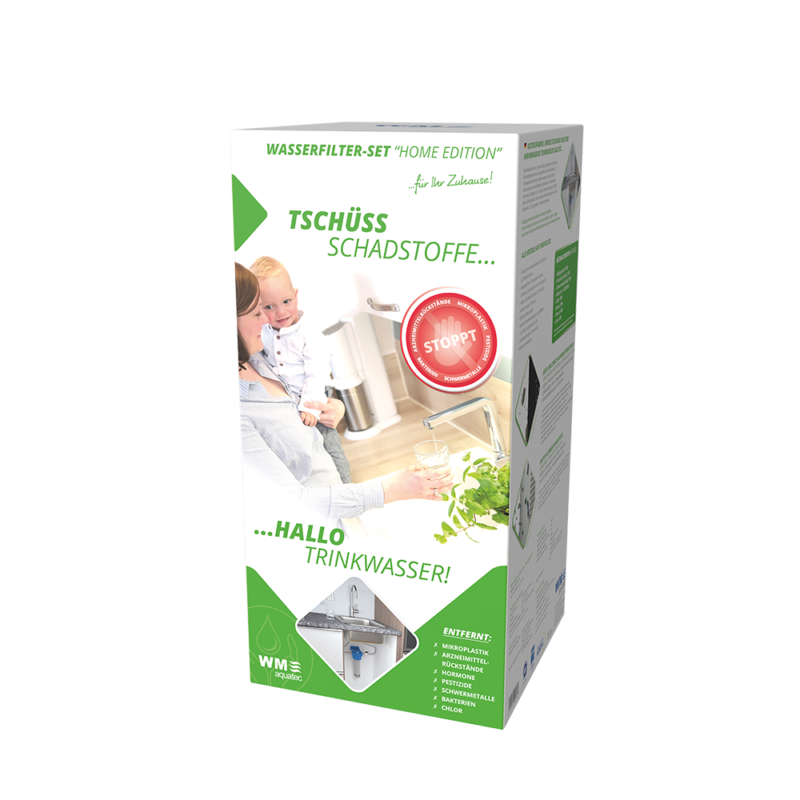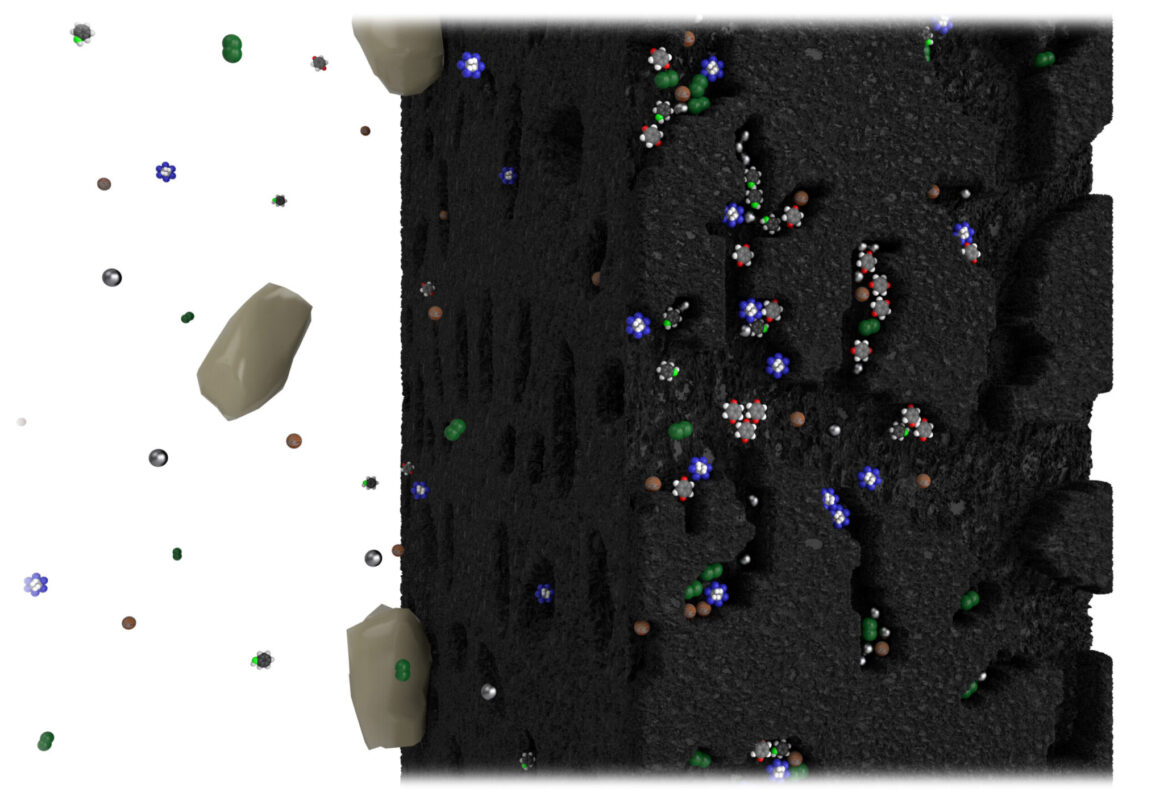 First and second processing stage: activated carbon block (10 µm)
Water in domestic plumbing pipes often carries macro-pollution such as rust deposits, suspended matter or similar. These are effectively filtered out on the activated carbon block with a pore size of 10 µm (0.01 mm).
The heart of the activated charcoal block of the "Home Edition" water filter set contains an innovative filter medium made of activated charcoal[Activated Carbon Composite ACC] . Raw material for the activated carbon are coconut shells. The combination and the matrix used, which has chemical and physical adsorption, achieve a significant increase in filter effectiveness.
Retention rates for the activated carbon block of the "Home Edition" water filter set (excerpt):
Chlorine: 99%
Benzene: 95%
Phenol: 96%
Pesticides (lindane): 97%
Heavy metals (lead): 95%
Iron: 85%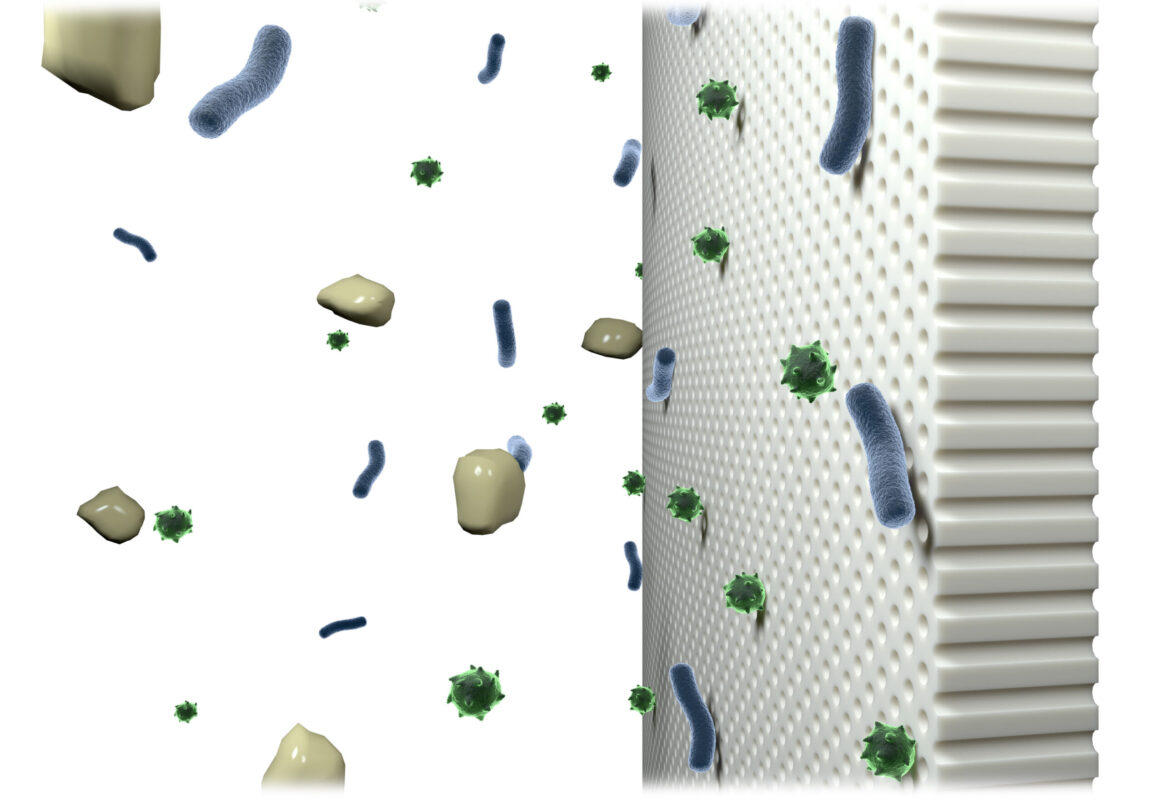 Third processing stage: sterile filtration
The integrated sterile filtration (membrane process) in the "Home Edition" water filter set is a purely mechanical, physical filtration with a filter fineness of 0.1 microns (0.0001mm). With this absolute filter fineness of 0.1 microns (0.1 µm), all remaining impurities are filtered out up to the separation limit. Sterile filtration is also an important and necessary treatment stage because activated carbon filters cannot reliably retain bacteria, for example – on the contrary. Microorganisms adhering to the activated carbon can multiply there and after an indefinite period of time be highly concentrated in the filtered water.
Retention rates for sterile filtration of the "Home Edition" water filter set (excerpt):
Microplastics ≤ 100%
Fungi, yeasts ≤ 100%
bacteriological support> 99.9999%
Under the following link you will find answers to frequently asked questions (FAQ) and instructions for use to download.
Technische Daten
Maße (Höhe x Durchmesser)
330mm x 123mm
Anschlüsse
2 x ½ Innengewinde
Durchfluss
7,6l/min @ 4bar (abhängig von der Rohwasserqualität)
Druck
max. 6bar
Wassertemperatur
+2 … +23°C (bei 6bar)
Flexschlauch Länge
50cm
Gehäusematerial
PET
Material Filterkopf
PP
Material Verschlussring
PP
Material O-Ringe
NBR
Material Flexschlauch
Edelstahl (außen), PE (innen)
Trinkwasserzulassung gemäß DVGW KTW-A und W270
Anschluss Wassereingang
3/8" Überwurfmutter (flachdichtend)
Anschluss Wasserausgang
3/8" Außengewinde