UV-C LED water disinfection unit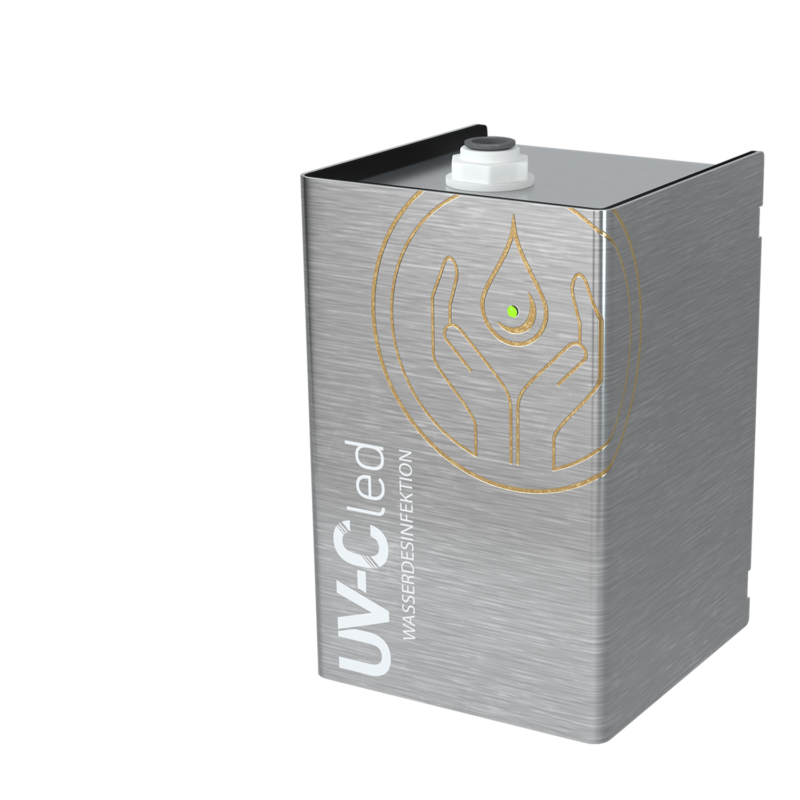 Since LEDs do not have a start or warm-up phase, they are only switched on at the same time as water is drawn off, which not only results in very low power consumption, but also a long service life of several years – and that without changing the lamp. During the annual maintenance of the fresh water system, the UV disinfection unit is cleaned automatically. Therefore, our UV disinfection unit is maintenance-free.

The UV disinfection unit from WM aquatec is the first fully automatic water disinfection unit of its kind, especially for use in mobile homes, which switches on automatically when water is drawn off and thus guarantees hygienically perfect water worldwide! Contrary to the previous UV technology, no environmentally hazardous, mercury-containing gas discharge lamps are used here, but the latest UV-C LED technology.

The water to be disinfected is irradiated with short-wave UV light in the range of 240-290 nanometers. The genetic information of the microorganisms contained in the DNA absorbs the energy of the UV-C radiation and is destroyed in the process. Viruses and bacteria can be effectively inactivated and prevented from multiplying by means of UV-C radiation. This purely physical process enables the water to be sterilized (up to 99.999%) without the use of chemical disinfectants.

water disinfection 100% without chemicals using the latest, innovative UV-C LED technology
disinfection performance up to 99.999%
up to 8 l/min flow rate
suitable for submersible and pressure pumps*
mercury-free and no harmful disinfection by-products
low power consumption due to disinfection directly at the point of water withdrawal
easy to retrofit into existing fresh water systems
incl. connection material (electrical and water side)
can be used for over 13 years with unlimited switching cycles
maintenance-free – no lamp replacement necessary
safe operation through integrated current and function monitoring,
temperature monitoring, service life monitoring, power supply monitoring and signaling (optical & acoustic)
*in exceptional cases (sensor-controlled pumps) the use of an ext. flow sensor may be required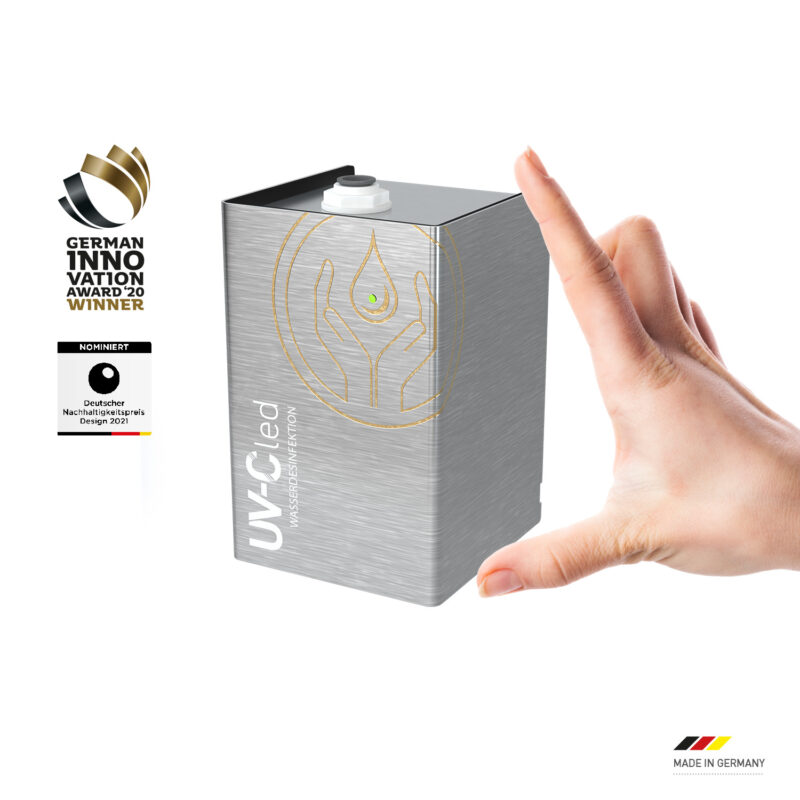 Accessories and spare parts
Under the following link you will find further information:
Technische Daten
Abmessungen ohne Anschlüsse
113 x 159 x 105mm (B x H x T)
Durchfluss
bis 8.0l/min
Entkeimungsleistung
bis zu 99.999%
Wasseranschlüsse
9/10mm und 12/13mm Schlauchtülle
Gewicht
0.9kg
Wasserdruck
max. 8.3bar
Lebensdauer
5.000h Wasserentnahme
Umgebungstemperatur
max. 55°C
empf. Wassertemperatur
0-38°C
Versorgungsspannung
11-18VDC
Stromaufnahme max.
0.02A (Standby)/1.2A (Betriebsmodus)
Leistung max.
14W
Signaleingang
UV-Einheit
Spannung
Frequenz
Strom
Pumpe
11-18VDC
-
-
Durchflusssensor
5-24VDC
mind. 1mA
1-200Hz