Food and drinking water-safe materials: tested according to Regulation (EU)10/2011 on plastic materials and objects intended to come into contact with food and CM/Res (2013)9 on metals and alloys used for materials and food contact items are used

High flow rate with pulsation-free operation with a flow rate of up to 11.6 liters (open flow). Our pressure diaphragm pump offers performance and tested quality for the highest demands.

high flow rate with pulsation-free operation
very quiet thanks to 4-chamber membrane technology and fully rubberized anti-vibration feet
up to 11.6l/min flow rate
with adjustable bypass control
adjustable pressure switch (default: 2.4 bar)
safe to run dry
self-priming up to 4m height
drinking water safe materials
incl. stainless steel pre-filter screen & hose fittings
compatible with UV-C LED water disinfection unit and sterile filters from WM aquatec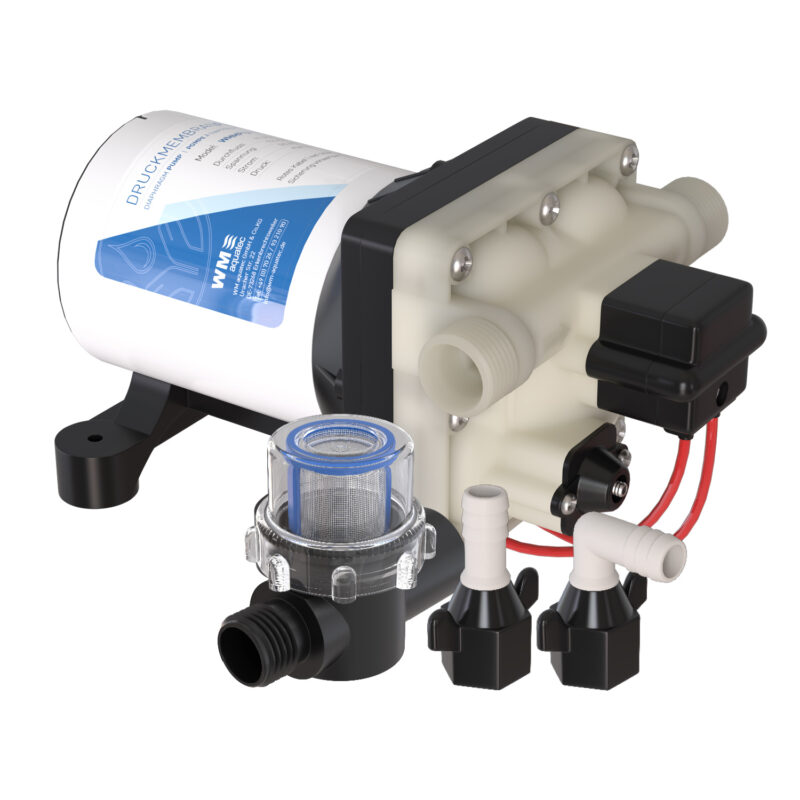 Pump characteristics and dimensions
Under the following link you will find answers to frequently asked questions (FAQ), instructions for use and safety data sheets for download.
Technical Data
Max. delivery rate
11,6l/min (Open Flow)
Switch-off pressure
Adjustable from 1,9 - 3,8bar (default 2.4bar)
Water connections
12mm hose nozzle (1x straight,1x 90° angled)
Voltage
12VDC
Power consumption
3,2A (max. 6A with default setting)
Required fuse
10A
Water contacted material
POM, EPDM, TPE, PA+30%GF