WATER FILTER SET MOBILE EDITION
The Mobile Edition water filter set is a complete set for pre-filtration when filling the fresh water tank for camping, caravanning, off-road and yachting. It consists of a three-part water filter housing, a PP drinking water filter and various accessories

Rust, sand or other contaminants in the water are effectively filtered out and thus guarantee better water quality.

prevents dirt from getting into the fresh water tank
protects pump, boiler and fittings from sand, rust, suspended matter, etc.
drinking water safe
incl. filter element with 1 µm filter fineness in industrial quality
very high flow rate
incl. replacement O-ring seal and filter wrench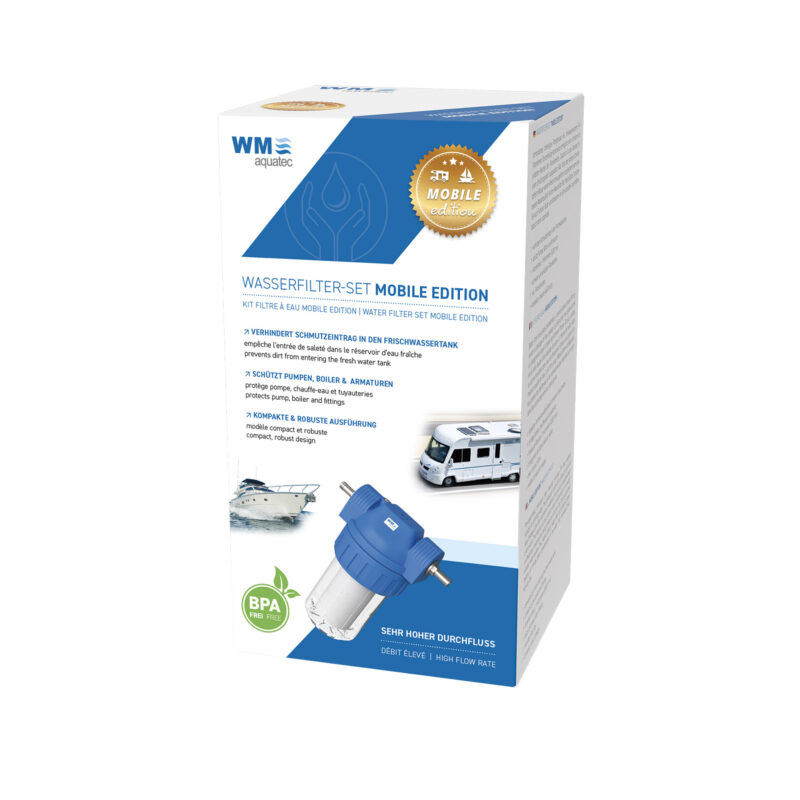 Under the following link you will find answers to frequently asked questions (FAQ) and instructions for use to download.
Technical Data
Dimensions (height x diameter)
198mm x 123mm (without connections)
Weight
0.6kg (without connections)
Connections
2x ½" internal thread
Hose nozzle (13mm) included in the scope of delivery
Pressure
max. 6bar
Water temperature
+2…+45°C (at 6bar)
Flow rate
15l/min (depending on the filter element used)